Intervista a Kevin Dempsey (English version available)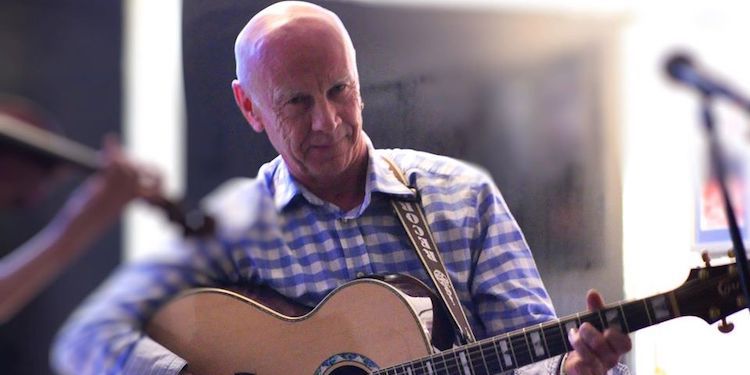 Kevin Dempsey e Jacqui McShee, ossia 2 grandi della musica inglese, uno con i Dando Shaft e l'altra con i Pentangle, hanno da poco pubblicato il loro 1° album in duo: From There To Here. Il lavoro per metà è di cover ben scelte e per l'altra di brani scritti insieme. Di questo e di tanto altro ne abbiamo parlato con l'ex Dando Shaft. Accomodatevi.
La prima, ovvia domanda: come è iniziata la collaborazione McShee-Dempsey? Quando hai incontrato Jacqui? Immagino che negli anni '60 e '70 tu fossi un fan di Pentangle…
«La prima volta che Jacqui e io ci siamo incontrati è stato nel 1987. Stavo suonando il mio 1° tour da solo in assoluto ed è stato in Italia! Il 14 aprile nella piccola città di Albino, vicino a Bergamo, sono stato di supporto per Pentangle. Avevo già incontrato Bert Jansch prima, ma quello fu il 1° incontro con Jacqui. Ero un fan di Pentangle di sicuro, quindi questo è stato un grande onore per me. Nel 2017 stavo suonando in un festival nel Regno Unito e in un altro giorno anche i Pentangle suonavano. Gerry Conway, il marito di Jacqui, mi ha contattato e mi ha chiesto se potevo restare ed esibirmi con loro dato che uno della band era malato. Ovviamente ho detto di sì, è stato un piacere essere stato invitato! Penso di aver fatto una buona figura – visto che pochi giorni dopo Jacqui mi ha chiamato e mi ha chiesto se avessi voluti suonare in coppia con lei un concerto a Glasgow. Fu al volo di ritorno dalla Scozia che nacque l'idea di suonare e registrare insieme».
Kevin Dempsey con Jacqui McShee, Vasto (CH), 2018
Il tuo ex partner nei Dando Shaft, Martin Jenkins, è apparso in Avocet, l'album di Bert Jansch del 1979. 40 anni dopo siamo tornati a una specie di Pentangle meet Dando Shaft…
«Sì, è interessante che gli elementi dei Dando Shaft e dei Pentangle tendano a collaborare quando si incontrano. Danny Thompson suonava il basso nell'album di reunion dei Dando Shaft, Kingdom del 1977. In quel momento diventai grande amico di Danny e quando in seguito registrai il mio unico e solo album da solista, The Cry Of Love nel 1985, Danny vi suonò».
Come mai l'album si intitola From There To Here? Potremmo interpretarlo come "da allora a ora"? Voglio dire, voi 2 avete una storia musicale molto lunga…
«Sì, penso che il titolo From There To Here potrebbe essere "da allora a oggi". Entrambi abbiamo avuto una lunga carriera e al momento questo lavoro "è dove siamo"».
La prima canzone del disco è Nature Boy di Nat King Cole, il famoso pezzo scritto da eden ahbez, considerato il primo hippie della musica americana. Non sembra una scelta casuale…
«Quando Jacqui e io stavamo cercando materiale per questo album, ho suggerito a Jacqui di provare Nature Boy, e Jacqui ha detto subito che questa era una canzone che voleva cantare da molto tempo. Quindi siamo stati entrambi molto felici di provarla. Non volevamo suonarlo tipo Nat King Cole ma in un modo più ritmato, quindi questo è quello che è venuto fuori. Ho sentito la canzone per la prima volta in un film molto antico di Joseph Losey intitolato The Boy With The Green Hair/Il ragazzo dai capelli verdi».
Una delle cose che attira l'attenzione sull'album è che metà del disco è scritto da voi due insieme. Jacqui è famosa per il suo modo di cantare, non per essere una cantautrice. Sei riuscito in un'impresa, formando team compositivo con lei…
«Questa è un'altra cosa che è emersa nelle nostre prime session insieme, che Jacqui voleva scrivere parte del suo materiale. Aveva alcune idee liriche e alcune melodie, quindi abbiamo iniziato a mettere insieme alcune cose e stiamo iniziando a scrivere altre cose per un altro album».
Trovo la vostra versione di Jack Monroe molto bella, una canzone che molti conoscono come Jack-A-Roe nelle interpretazioni fornite negli anni da Grateful Dead, Joan Baez e Bob Dylan. Se non sbaglio, il pezzo proviene dalla tradizione popolare scozzese e mi sembra che tu l'abbia interpretata nella forma originale…
«Jack Monroe è una canzone che ho ascoltato per la prima volta dai New Lost City Ramblers e mi è piaciuta molto, poi ho sentito una versione di Curly Maple e, semplicemente, ho deciso di provare a farla».
Sfortunatamente, ti ho visto suonare una volta sola. Ma devo dire che sono rimasto molto colpito da come suoni la chitarra. Chi sono le tue influenze a tal proposito?
«Davy Graham, Bert Jansch & John Renbourn, Mississippi John Hurt, Brownie McGhee – e alcuni chitarristi della mia città natale, Rod Felton, Dave Cooper e Rod Gresty hanno avuto una grande influenza. Poco dopo George Benson, Earl Klugh, Charlie Byrd, Bola Sete e vari altri sono venuti alla mia attenzione».
E prima di tutto ciò?
«Per la verità, quando ero molto giovane ho iniziato a suonare la batteria: mio ​​padre era un batterista – e un pugile, a volte entrambi – quindi ne sono rimasto affascinato. Ho suonato in un paio di gruppi rock, ma il mio grande amore era la musica soul: Impressions, Otis Redding, Joe Tex, Lou Rawls – quel tipo di artisti. Ho suonato in due gruppi soul, i Soul Express e i BoWeevils, band con sezioni fiati e organi Hammond. Il tutto intorno ai miei 14-16 anni. A 17 anni un amico mi ha chiesto di andare ad un "concerto folk" a vedere Alex Campbell e Bert Jansch. Non volevo davvero andarci, ma ci sono andato comunque. Quello che ho visto e vissuto mi ha cambiato la vita! Non ero mai stato a un concerto e ne sono uscito sentendomi caldo, umano e in contatto come quella sera. Così ho preso una chitarra acustica e ho iniziato a imparare, a orecchio».
Dando Shaft nei primi anni 70
So che hai un debole per la musica italiana, in particolare quella di Fabrizio De André e di Ivano Fossati. Cosa ti affascina dei loro dischi? Come sei entrato in contatto con la loro musica?
«Il mio primo viaggio in Italia come musicista è stato nel 1983. Vi andai in coppia con Martin Jenkins. Nel 1984 andai con i Whippersnapper e, mentre guidavo dall'aeroporto verso Milano, sentii Crêuza de mä. Sono stato completamente folgorato da quell'album – e lo sono ancora. Questo è stato, per me, l'inizio di una relazione praticamente amorosa. Nel 2006 sono stato invitato a suonare a Tempio, in Sardegna, alla celebrazione della musica di Fabrizio. Ho dovuto suonare un set che includeva almeno 3 sue canzoni. Le ho imparate in genovese e le ho suonate insieme a un paio di miei brani e a una versione di Geordie, una canzone inglese eseguita anche da Fabrizio. Non credo di essere mai stato così nervoso. Il concerto era completamente pieno, tutte le navate laterali erano piene, tutti i posti erano andati e la gente in piedi dappertutto e tra il pubblico vi era anche Dori Ghezzi, la vedova di Fabrizio. Che notte! Ho ancora un certificato appeso al muro di casa che dice che sono "un vero amico di Faber"!».
I tempi sono chiaramente difficili: con Jacqui dovevi essere in Italia ad aprile, ma il coronavirus ha rinviato tutto a novembre, forse. Pensate di promuovere From There To Here con molti concerti?
«Le cose sono molto difficili per noi tutti al momento. Tutti i concerti sono stati cancellati, ma non appena saremo in grado di tornare in Italia, lo faremo. Se tutto andrà bene, sarò in Italia da solo a ottobre e poi, come hai detto tu, con Jacqui a novembre».
Interview with Kevin Dempsey
Kevin Dempsey and Jacqui McShee, or two great English musicians, one with Dando Shaft and the other with Pentangle, have recently released their first duo album: From There To Here. The work is half of well-chosen covers and the other of songs written together by the two. We talked about this and much more with the former Dando Shaft. Make yourself comfortable.
The first, obvious question: how did the McShee-Dempsey collaboration start? When did you and Jacqui meet? I guess in the 60s and 70s you were a Pentangle fan…
«The first time Jacqui and I met was in 1987. I was playing my first ever, anywhere, solo tour and it was in Italy! On the 14th of April in the small town of Albino, near Bergamo, I was support for Pentangle. I had met Bert Jansch before, but this was first meeting with Jacqui. I was a Pentangle fan for sure so this was a great honour for me. In 2017, I was playing a festival in the UK and on a different day Pentangle were also playing. Gerry Conway, Jacqui's husband, contacted me and asked if I would be able to stay on and perform with them as one of the band was ill. Of course I said yes was delighted to be asked! I think I did Ok as a few days later Jacqui called me and asked if I would play as a duo with her a concert in Glasgow. It was on the flight back from Scotland that the idea of playing and recording together was born».
Your former partner in Dando Shaft Martin Jenkins made his appearance on Avocet, Bert Jansch's 1979 album. Forty years later we are back to a kind of Pentangle meet Dando Shaft thing…
«Yes it's interesting that members of Dando Shaft and Pentangle should work with each other. Danny Thompson played bass on the Dando Shaft reunion album, Kingdom, 1977. I became great friends with Danny at this time and when I later recorded my one and only (so far) solo album, The Cry Of Love in 1985, Danny played bass».
An Evening With Dando Shaft (1970)
How come the album is titled From There To Here? Could we interpret it as "from then to now"? I mean, you two have a very long musical history…
«Yes, I think the title From There To Here could be 'from then to now'. We both have had long careers and at the moment this is where we are».
The first song on the disc is Nat King Cole's Nature Boy, the famous piece written by eden ahbez, which is considered the first hippie of American music. It doesn't seem like a random choice…
«When Jacqui and I were looking at material for this album, I suggested to Jacqui that we try Nature Boy, and Jacqui straight away said that this was a song she wanted to sing for a long time. So we were both very happy to try it. We didn't want to play it in a 'Nat King Cole' way, but in a more rhythmic way, so this is what came out. I first heard the song in a very old movie by Joseph Losey called The Boy With The Green Hair».
One of the things that catches the attention about the album is that half of the record is written by you two together. Jacqui is famous for her way of singing, not for being a songwriter. You succeeded in a deed, forming a competitive team with her…
«This was another thing that came out in our early sessions together, that Jacqui wanted to write some of her own material. She had some lyrical ideas and some melodies so we started to put some things together and we are starting to write some more stuff for a follow up album».
I find your version of Jack Monroe very beautiful, a tune which many know as Jack-A-Roe in the interpretations given over the years by Grateful Dead, Joan Baez and Bob Dylan. If I'm not mistaken, the piece comes from the Scottish folk tradition and it seems to me that you have remade directly to that…
«Jack Monroe is song I heard first time by The New Lost City Ramblers and i liked it a lot then I heard a version by Curly Maple and decided I would have a go at it».
I saw you play only once, unfortunately. But I must say that I was very impressed with how you play the guitar. Who are your influences on this?
«Davy Graham, Bert Jansch & John Renbourn, Mississippi John Hurt, Brownie McGhee and some guitarists from my home town, Rod Felton, Dave Cooper and Rod Gresty were big influences. Shortly after this George Benson, Earl Klugh, Charlie Byrd, Bola Sete and various others came to my attention. I loved it, still do».
Kevin Dempsey
What was your music of choice before all that?
«When I was very young I started to play the drums: my father was a drummer (and a boxer, sometimes both) so I was fascinated by this. I played in a couple of rock bands, but my big love was soul music. The Impressions, Otis Redding, Joe Tex, Lou Rawls, etc. I played in two soul bands, The Soul Express and the BoWeevils, bands with horn sections and Hammond organs. I was only 14 to 16 years at this time. When I was seventeen a friend asked me to go to a 'folk concert' and see Alex Campbell and Bert Jansch. I really didn't want to go but I went anyway. What I saw and experienced changed my life! I never before had been to a concert and came out feeling as warm and human and in touch as I did that night. So I got an acoustic guitar and started to learn, only 'by ear'».
I know you have a soft spot for Italian music, especially that of Fabrizio De André and Ivano Fassati. What fascinates you about their records? How did you get in touch with their music?
«My first trip to Italy as a player was in 1983. I went as a duo with Martin Jenkins. In 1984 I went with Whippersnapper, and on the drive from Milan airport into Milan, I heard Crêuza de mä. I was completely knocked out by this album and still am. This was the start of a love affair for me. I 2006 I was invited to play in Tempio, Sardegna, at  the celebration of Fabrizio's music. I had to play a set that included at least three songs by him. I learned them in genovese and played them along with a couple of my own songs and a version of Geordie, an English song that Fabrizio performed. I don't think I have ever been so nervous. The concert was completely full, all the aisles were full, all seats gone and people standing everywhere and in the audience was Dori Ghezzi. What a night! I still have a certificate on my wall that says that I am 'a true friend of the Faber'!».
Times are clearly difficult: you had to be in Italy in April but the coronavirus did postpone everything in November. Do you plan to play for a while in support of From There To Here?
«Things are very difficult for us all at the moment, all gigs cancelled, but as soon as we are able we will be back in Italy. If all goes well I will be in Italy solo, in October and with Jacqui in November».